Home Fragrance & Auto
Activating this element will cause content on the page to be updated.
Filters
selection will refresh the page with new results
Special Offers
refinement Special Offers group
selection will refresh the page with new results
product-list-page-filter
Price
selection will refresh the page with new results
product-list-page-filter
Earn $5 toward a future order by picking up an item in store!
After you pick up your order, you'll receive an email with a code to use on your next purchase.
Home or Car Fragrance Form
Product Results
Showing 1 of 1 results
CLEARANCE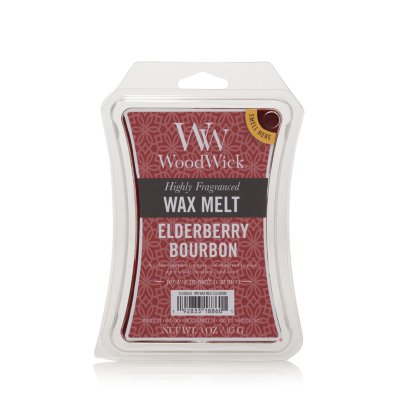 Elderberry Bourbon
Elderberry Bourbon
WoodWick® Wax Melts 6-Packs
Clearance sale items do not qualify for other promotions or discounts.
This item is currently not available.
The selected quantity is currently not available.
Sale Price
$3.00
Strikethrough List Price

$6.00
Distinctive Designs for Home & Auto
WoodWick® designs for home and auto have a sleek and sophisticated look that fits your style. Enjoy the captivating light and sophisticated fragrance of a WoodWick® Radiance diffuser that delivers ambiance to any space. Choose from an assortment of premium fragrances that provide effortless scent in a 3-ounce Wax Melt for a sense of luxury. While you're driving, fill your car with fragrance as thoughtfully as you do your home, with the sleek look of WoodWick® Journey™ Vent Diffuser. Distinctive and refined, these options for home and auto provide the ultimate fragrance experience and keep your space filled with distinctive scent.
A Sophisticated Fragrance Experience
You'll find unique fragrance choices made with the luxury craftsmanship of WoodWick Candle that provide just the right addition to your home or auto experience. With a combination of carefully selected materials and elegant designs, WoodWick® room fragrances and car air fresheners are designed to fit your unique style. Indulge in sophisticated scents, just-right ambiance, and refined designs — each providing effortless fragrance with elegance no matter where you are on your journey.